CN's iAdvise program is a combination of the First Mile/Last Mile tool and three email notifications, designed for those whose facilities receive railcars. Together, they provide increased visibility for your full pipeline, including offline traffic from origin to destination to better help you plan, monitor and act.
FMLM
(First Mile/Last Mile tool)
View all traffic moving in and out of your facility, including the status of your railcars, their current location, and advanced filtering capabilities to segment your traffic.
LSN
(Local Service Notification)
Receive advanced confirmation on all work CN plans to perform during your next scheduled assignment ­— see what is and what is not coming today.
TOD
(Temporary Outage Disruption)
Get informed of major track issues that may affect your traffic. Use this information to create contingency plans.
SEN
(Service Exception Notification)
Be notified on exceptions and recovery plans if things don't go as planned during your scheduled assignment.
Get to know the tool — scroll over each section to discover what it can do for you.
TEMPORARY OUTAGE/DISRUPTION
Mainline issues affecting your
traffic – emailed shortly after incident occurs
Displays cars which may be delayed due to an outage or disruption to CN's main track

Updates are provided as the site is restored to operational
Subscribe to TOD through My Rail Service in eBusiness
LOCAL SERVICE NOTIFICATION
What is being delivered today - emailed 1-2 hours before your assignments starts
Confirms work to be done that day - which cars will be spotted/pulled, loaded/empty, station and track ID

Show cars that are waiting for your instructions – such as bad order or constructive placement

Displays any work that will not be done and its recovery plan
Subscribe to LSN through My Rail Service in eBusiness
SERVICE EXCEPTION NOTIFICATION
Timely recovery planning – emailed after your assignment is complete and reported
Communicates cars that could not be spotted/pulled, and provides a recovery plan

Explains if the incomplete service was due to a CN or customer issue
Subscribe to SEN through My Rail Service in eBusiness
Looking at iAdvise is like
looking over our shoulder.
We are all
using the same
information.
1st Hour
of each SDR's day is spent reviewing FMLM – looking
for alerts, spotting slowdowns and
determining recovery plans.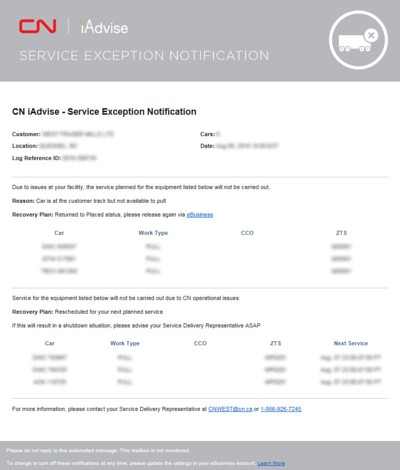 Each Call
from you prompts FMLM to open on the SDR's screen – driving collaboration and tracking communications.
DOP
Daily Operating Plans committed to by CN Operations drives the data we all see.
Get to know the tool — click on the image to get more detailed information